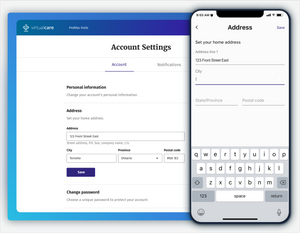 Designing a mobile experience for a web application

Virtual Care is a web-based product that was developed for the primary care space to connect patients and providers on a platform that facilitates video, audio and chat visits. The initial application was developed for a web experience and this project was Think Research's first step into the native mobile space. Our design and development teams began the journey into mobile apps for iOS native and Android.
As part of the design team working on mobile designs, I had to learn as much about usability guidelines for mobile related to iOS and Android. One of the pieces I worked on as part of this project was the settings portion of the application.

Read more about the problem, constraints, and the proposed solution in the full case study. 
Read the full case study